Central Library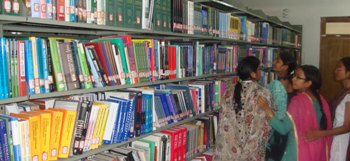 Established in 1999, Central Library is one of the largest repositories of information in Uttar Pradesh to provide quality services to its students, research scholars, teachers and staffs. It shifted at newly three storied impressive modern library building with the name of Vivekanand Central Library in the year 2004 which was inaugurated by Bhairon Singh Shekhawat, the then Vice-President of India. In 2016, the Central Library has been awarded as a "Centre of Excellence" by Govt. of Uttar Pradesh.The Library premises are under CCTV surveillance to control unethical incidents. Library has Wi Fi connectivity to provide Internet as well as eResource facilities to its users even after closing the library.
Now the Library is working with SOUL software package for its in-house job like circulation, serial control, cataloguing, OPAC/Web OPAC etc.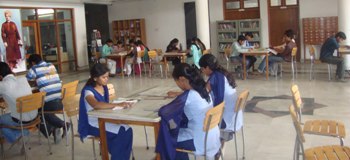 The present Library stock comprises 1,12,006 books, 318 professional Indian and foreign journals and magazines, 557 back volumes of journals, 10211 Ph.D. theses, 760 CD, 12 Newspapers, 216 Govt. publications, press clippings since 2008. Library has a reach collection of reference books like, encyclopedia, dictionary, yearbook, atlas, directory, almanacs etc.
It has a Digital LibrarycumResearch Section to support the research scholars on all subjects those are not being studied in UTD. Since 2014, we have uploaded 519 Ph.D. thesesin Sodhganga Repository and going to digitize our 12,000+ old theses.
It has also an e-library containing 20 computers with 1 GBPS BSNL leased line Internet connectivity to access 10,000+ e-resources including e-journals, e-books, e-databases, e-contents, e-theses purchased and subscribed by university along with INFLIBNET Centre, Ahmadabad with many more Open Access e-resources.
Library has also an EDUSAT system in audio-visual section to attend the virtual teaching programmes telecast by UGC, AICTE, and IGNOU etc.
It has also Book Bank section to provide the complete set of text books for every students for all semesters.
Librarian(Honorary): Dr. Manas Pandey
Contact Person:
Dr. Bidyut K. Mal
Mob. No. 9415372840
Attachments: