Introduction (Department of Electronics and Communication Engineering)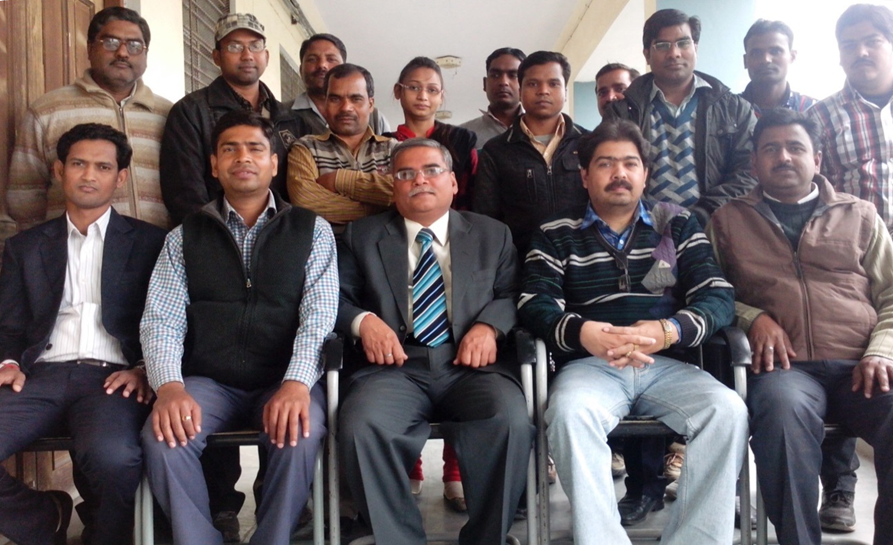 Since its inception in 1997, the Department of Electronics Engineering has been imparting quality education towards B. Tech degree in the discipline of Electronics Engineering. The Department initially started with an intake of 30 students. In the year 2002 an advisory committee constituted for the purpose to diversify the academic activities of Department suggested to expand the Electronics education looking into the social needs and job opportunities available in the market. Thus came two branches in existence and hence two Departments were created namely, Department of Electronics & Communication and Department of Electronics & instrumentation Engineering. Since year 2002, B. Tech program in the Department of Electronics and Communication & the Department of Electronics and Instrumentation Engineering are being offered successfully with an annual intake of 60 students in each discipline. Departments have created suitable laboratories, library and other instructional facilities to cater the need of academics. We have been regularly upgrading the curriculum looking into the rapid changes in technology and industrial requirement. Our students have displayed an international standard as is evident looking into their absorption in various organizations, industries and other institutions of national and international repute. The Departments have been organizing various curricular and extracurricular activities together with Workshops, Conferences, National Science Day, Engineers Day and Teachers Day celebrations. A such programs are volunteered by our students and guided by the very energetic faculty members of the Departments.
Needless to mention, the departments have drawn faculty members who are alumni of national institutions of repute in the country from IIT, Roorkee, Allahabad University, HBTI Kanpur, SRM University, SHIATS Allahabad etc. Faculty members are specialized in various core as well as advanced areas in the Electronics Engineering for example photonics and fiber optics, pipelining and parallel processing, digital audio broadcasting, microprocessor and microcontroller, IDMA Systems, embedded system, CDMA technologies ,advance instruments, neural networks ,micro and smart systems ,bio-medical instrumentation etc. Faculty members provide an able guidance to the students to update their knowledge in advance technologies. Departments have arranged several expert lectures from the persons specialized in the advanced technologies through which faculty members and students benefit a lot.
The Departments run its administration under the guidance of senior teachers as Prof. B.B Tiwari and Mr. Ravi Prakash and others. These faculty members have wide exposure from their services in various institutions of repute in the country.
Salient Features of The Department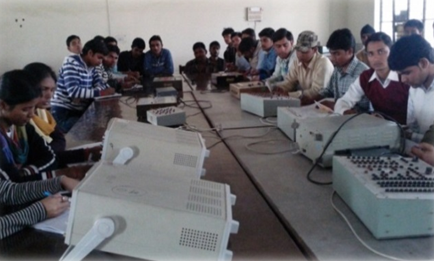 COMMUNICATION LAB
The Department is equipped with adequate numbers of computers with internet connection with optical fiber broad band connection in the campus. Department is equipped with audio visual facilities for catering effective education .
Laboratories are supported by desired softwares MATLAB, MULTISIM, ORCAD. Department also has a plan to procurer another set of laboratory facilities like Bio-Medical Instrumentation Lab, Advance Communication Lab, DSP Lab etc. to strengthen the laboratories exposure to the students. Department has a plan to introduce PG program and PhDs program as well in near future. We have planned to organize a national conference in current session. Various expansion activities are in the pipeline towards strengthening, library, laboratory, computing facility, classroom modernization, and Departmental auditoriums and building spaces.
Vision
Offering innovative learning platform through Teaching and Research in advanced areas of Engineering & Technology for welfare of society and easy life for human being.
Mission
Offering curricular training in tune with time for advanced knowledge sharing with students
Offering learning centric education so as to create pool of engineers for addressing the challenges of a demand based solutions in a rapidly changing technological environment
Encourage and promote research activity through involvement of students & teachers on areas of local & global impacts.
Program Educational Objectives (PEOs)
PEO1: To train the students with strong basic and fundamental knowledge in mathematics, science and engineering in accordance with Electronics and Communication Engineering with a focus on solving engineering problems.
PEO2: Inculcate the professional and ethical attitude, effective team work and ability to relate engineering issues to social context.
PEO3: To prepare graduates fully fledged with knowledge to pursue higher studies and research.
PEO4:  To communicate effectively, show leadership qualities and exhibit a professional conduct in their career.
Program Objectives (POs)
Engineering Graduates will be able to:
PO1: Engineering knowledge: Apply the knowledge of mathematics, science, engineering fundamentals, and an engineering specialization to the solution of complex engineering problems.
PO2: Problem analysis: Identify, formulate, review research literature, and analyze complex engineering problems reaching substantiated conclusions using first principles of mathematics, natural sciences, and engineering sciences.
PO3: Design/development of solutions: Design solutions for complex engineering problems and design system components or processes that meet the specified needs with appropriate consideration for the public health and safety, and the cultural, societal, and environmental considerations.
PO4: Conduct investigations of complex problems: Use research-based knowledge and research methods including design of experiments, analysis and interpretation of data, and synthesis of the information to provide valid conclusions.
PO5: Modern tool usage: Create, select, and apply appropriate techniques, resources, and modern engineering and IT tools including prediction and modeling to complex engineering activities with an understanding of the limitations.
PO6: The engineer and society: Apply reasoning informed by the contextual knowledge to assess societal, health, safety, legal and cultural issues and the consequent responsibilities relevant to the professional engineering practice.
PO7: Environment and sustainability: Understand the impact of the professional engineering solutions in societal and environmental contexts, and demonstrate the knowledge of, and need for sustainable development.
PO8: Ethics: Apply ethical principles and commit to professional ethics and responsibilities and norms of the engineering practice.
PO9: Individual and team work: Function effectively as an individual, and as a member or leader in diverse teams, and in multidisciplinary settings.
PO10: Communication: Communicate effectively on complex engineering activities with the engineering community and with society at large, such as, being able to comprehend and write effective reports and design documentation, make effective presentations, and give and receive clear instructions.
PO11: Project management and finance: Demonstrate knowledge and understanding of the engineering and management principles and apply these to one's own work, as a member and leader in a team, to manage projects and in multidisciplinary environments.
PO12: Life-long learning: Recognize the need for, and have the preparation and ability to engage in independent and life-long learning in the broadest context of technological change.
Program Specific Objectives (PSOs)
PSO 1. Graduates will be able to analyze specific engineering problems relevant to Electronics & Communication Engineering by applying the knowledge of basic sciences, engineering mathematics and engineering fundamentals
PSO 2. Design and analyze various functional elements of different modes of communication systems using the significant analytical knowledge in Electronics & Communication Engineering and applying modern tools.
PSO 3. Apply the contextual knowledge of Electronics and Communication Engineering to assess societal, environmental, health, safety, legal and cultural issues with professional ethics and function effectively as an individual or a leader in a team to manage different projects in multidisciplinary environments as the process of life-long learning.