Training & Placement
Prof. Sandip Kumar Singh
( Professor and Head , Department of Mechanical Engineering, Uma Nath Singh Institute of Engineering and Technology)
Director Central Training and Placement
JOB FAIR 2020
List of selected Candidates who are recruited  in various Companies through JOB FAIR 2020(click here)

(Preliminary Information; Additions to be made when Relevant)
Organized by VBS Purvanchal University & Avsar Ventures, Jaipur
Important Notice: On 11th Feb 2020  spot registration from 9:30 am possible, allowing participation  in Job Fair 2020 on the same date for students who have not registered so far.
About 22 Participating Companies; Details to be given later
11 Well-Known Companies will Recruit on Each Day, Some may Recruit on Both Days; Students should Participate on Both Days
Place :      VBS Purvanchal University Purvanchal University Campus, JAUNPUR.
Dates:       February 11 & 12 (Tuesday and Wednesday), 2020.
Reporting Time : 10:00 A.M. Inauguration by Vice Chancellor at 10:30  A.M. on 11th February.
Eligibility:  Present Final Year UG and PG students and Pass Outs of Years 2019 and 2018 of VBS Purvanchal Campus and its Affiliated Colleges
Final Year Students and Holders of Degrees: MBA (All Streams), BBA, B. Pharm., MCA, BCA, B.Tech. (All Streams), B.Com., M.Com., B.Sc. (All Subjects), M.Sc.(All Subjects), B.A. (All Subjects), M.A. (All Subjects).
Requirements for REGISTRATION:
Present Final year UG & PG Students should fill Database card paste their photograph, and get it forwarded and sent to the Central Training & Placement Cell, VBSPU, by the authority (Heads of Department for University Campus Students; and Principal/TPO/Nominated Coordinator Teachers for Affiliated Colleges Students) at the earliest, and definitely by 20th January 2020.
Pass Outs of Years 2019 and 2018 should take print out of the Database Card given below, fill it, paste their photograph and either
submit it to Central Training & Placement Cell, VBS Purvanchal University, Jaunpur, personally or by mail, or
e-mail its scanned copy to any of email id's given below.
Documents: Students should participate in Job Fair on 11th & 12th February in Formal Dress with their I cards and carry 6 copies of their Resume (Bio Data), Photograph and Marks sheets. They may carry their Water Bottles and Tiffin Boxes also.
Our Contact Details: Email id's: director_training_placement@vbspu.ac.in, prakash_ranjana1974@rediffmail.com, shyamtripathi3006@gmail.com
Prof. Ranjana Prakash
Director, Central Training & Placement Cell
Download And Fill Online Registration Form By Using Link Given Below.
https://forms.gle/JrNUFNyHR4QD4HPE8

List of various companies participating in Job Fair 2020 

| | | | | | | |
| --- | --- | --- | --- | --- | --- | --- |
| S No | Name of Organisation | Website | Stream | Job role | Salary | Location |
| | | | | | | |
| 1 | Genpact | www.genpact.com | B.A/B.Sc/B.Com/BBA/MBA/ (B.Tech & MCA are not eligible) | Process Associate/ Customer Care Executive | 1.8-3.2 LPA | Delhi NCR |
| 2 | Tech Mahindra | www.techmahindra.com | B.A/B.Sc/B.Com/BBA/BCA/ B.Tech/MBA | Customer Support Associate (Voice/E-mail, chat process) | 1.20-2 LPA | Delhi NCR |
| 3 | Extramarks | ww.extramarks.com | B.A/B.Sc/B.Com/BBA/BCA/ B.Tech/MBA | Sales | 5.2 LPA | PAN India |
| 4 | Jaro Education | www.jaroeducation.com | B.A/B.Sc/B.Com/BBA/BCA/ B.Tech/MBA | Career Development Executive | Upto 7.50 LPA | PAN India |
| 5 | R1RCM | www.r1rcm.com | B.A/B.Sc/B.Com/BBA/MBA (Except B.Tech) | Analyst | 2.40 LPA | Delhi NCR |
| 6 | Bajaj Capital | www.bajajcapital.com | B.A/B.Sc/B.Com/BBA/MBA | Finance Advisor | 1.8-2.2 LPA | Across UP |
| 7 | Eureka Forbes | www.eurekaforbes.com | B.A/B.Sc/B.Com/BBA | Sales Representative | upto 1.2 LPA | Across UP |
| 8 | Sakata India | www.sakataindia.com | B.SC (PCB/PCM) | Graduate Trainee | 1.8 LPA | Bhiwadi |
| 9 | Shreeram Fortune Solution Limited | www.shriramfortune.in | B.A/B.Sc/B.Com/BBA/MBA | Development Office/Team Leader | 2.4 LPA | Lucknow |
| 10 | ATS India | www.tabcctv.in | B.A/B.Sc/B.Com/BBA/BCA/ B.Tech (CS/IT/EC/EE) /M.Tech/MBA | Assembling & Testing/ Technical Support/ CCTV Installation/ Technical Sales/ Area Sales/ Automation Engineer/HR Executive/Front Desk Executive | 1.8- 4 LPA | Punjab |
| 11 | Talent Corner HR Services | www.talentcorner.in | B.A/B.Sc/B.Com/BBA/ B.Tech/MBA | HR and Business Development | 2.4-3.00 LPA | Mumbai |
| 12 | Experis IT | www.experisindia.com | B.E/B.Tech (CSE/IT) 60% in 10th, 12th and 65% in Graduation | Software Engineer Trainee | 2.6 LPA | PAN India |
| 13 | Hostello | www.hostello.in | B.A/B.Sc/B.Com/BBA/Hotel Management | Guest Relation Executive | 1.5 LPA+Food +Accomodation Free | Lucknow |
| 14 | Silaris Information(Max Life) | www.silaris.in | B.A/B.Sc/B.Com/BBA/MBA | Back office Voice/Non-voice | 2.0-3.0 LPA | Delhi NCR |
| 15 | Infosys(Off-Role) | www.infosys.com | B.A/B.Sc/B.Com/BBA/BCA/ B.Tech/MBA | Process Associate/ Sr. Process Associate | 1.8- 3 LPA | Pune |
| 16 | Pest Control India (PCI) | www.rentokil-pestcontrolindia.com | BSc – Chemistry / Agriculture / Botany / Zoology / Environmental Science/ Microbiology/ Biochemistry/ Biotechnology | Operations Executive | 2.6 LPA | Noida/Meerut/Jaipur |
| 17 | Xcrino | www.xcrino.com | B.Tech CS/IT/ MCA/MBA/BBA | PHP Developer/ Android Developer/ HR Recruiter/ BDE | 1.8- 2.6 LPA | Delhi/NCR |
| 18 | SignityPayroll (Hiring for Paytm/Googlepay/Phonepay/ Future Group) | www.signitycs.com | B.A/B.Sc/B.Com/BBA/MBA | Marketing & Sales Executive | 2.4 – 2.6 LPA | PAN India |
| 19 | Deccan Healthcare | www.deccanhealthcare.co.in | B.A/B.Sc/B.com/B.Pharma | Quality/ Sales | 1.8-3.0 LPA | Delhi/ NCR / UP/HARYANA/BIHAR |
| 20 | Ttoys Bazaar | www.ttoys.in/ | BBA/MBA | Franchise Manager | 3-5 LPA | Jaipur |
| 21 | Dueful Healthcare | www.duefulhealthcare.com | B.Pharma/Microbiology/Bsc/Msc | QA, QC, Production, Quality | 1.2 LPA | Jaipur |
| 22 | K7 Solution | www.k7solution.com/ | B.A/B.Sc/B.Com/BBA/BCA/MBA | HR/Marketing | 1.8 LPA | Delhi/NCR/PAN UP |
JOB FAIR 2019
Companies for 25 February, 2019
| | |
| --- | --- |
| S No | Name of Organisation |
| | |
| 1 | Infosys |
| 2 | Paytm |
| 3 | Swiggy |
| 4 | LG Electronics |
| 5 | Eureka Forbes |
| 6 | American Express |
| 7 | Max Life |
| 8 | ICICI Prutential Life |
| 9 | Pacific Cyber Technology |
| 10 | Hyper Filteration |
| 11 | Research Panel |
| 12 | Pukhraj Healthcare |
| 13 | Club JB |
| 14 | ATS India |
| 15 | Niyokta HR |
| | |
| --- | --- |
| | Companies for 26 February, 2019 |
| | |
| --- | --- |
| S No | Name of Organisation |
| | |
| 16 | Zomato |
| 17 | Cars 24/ Kent RO/ Snapdeal |
| 18 | Yash Group |
| 19 | Fusian Micro Finance |
| 20 | Griantek |
| 21 | I Soft India Technologies |
| 22 | Satya Micro Capital |
| 23 | GIPL |
| 24 | Signity Corporate Solutions |
| 25 | Just Dial |
विश्वविद्यालय में लगेगा जॉब फेयर 
वीर बहादुर सिंह पूर्वांचल विश्वविद्यालय का प्लेसमेंट सेल  आगामी 20 -21  एवं 25 -26 फरवरी को परिसर में विशाल जॉब  फेयर का आयोजन कर रहा है। केंद्रीय ट्रेनिंग एवं प्लेसमेंट सेल की  निदेशक प्रो रंजना प्रकाश ने शनिवार को जानकारी देते हुए बताया कि विश्वविद्यालय अपने विद्यार्थियों को रोजगार उपलब्ध कराने की दिशा में सतत सक्रिय है।  विश्वविद्यालय परिसर में  आगामी 20 -21 फरवरी को रैप्स टेक्नालॉजी,जिरिफ्को ,सिलारिस  एवं  जारो कम्पनी कैम्पस में प्लेसमेन्ट के लिए आ  रही हैं। इसी तरह  25 -26 फरवरी को अवसर वेंचर डॉट कॉम  के सहयोग से विशाल जॉब  फेयर का आयोजन किया जा रहा  है जिसमें लगभग 20 बड़ी कंपनियां कैम्पस  प्लेसमेन्ट के लिए आ रही हैं। उन्होंने कहा  कि  जारो कपंनी का पैकेज  काफी बड़ा है। विद्यार्थी इस जॉब फेयर में  बढ़ चढ़ कर  हिस्सा लें। विश्वविद्यालय द्वारा संचालित  पाठ्यक्रमों बीटेक  (इलेक्ट्रिक इंजीनियरिंग, इलेक्ट्रानिक्स एंड कम्युनिकेशन इंजीनियरिंग, इलेक्ट्रानिक्स एंड इन्स्ट्रूमेंटेशन इंजीनियरिंग, कम्प्यूटर सांइस एंड इंजीनियरिंग, इनफॉरमेशन टेक्नोलॉजी, मैकेनिकल इंजीनियरिंग) एमसीए, एमबीए (एच आर डी, बिज़नेस इकोनॉमिक्स, फाइनेंशियल स्टडीज, बिजिनेस एडमिनिस्ट्रेशन), एम ए (जनसंचार, व्यवहारिक मनोविज्ञान, अंग्रेजी, इतिहास, भूगोल), बीबीए, बीसीए, बीकॉम ,बीएससी (होम साइंस, फूड टेक्नोलॉजी) के उत्तीर्ण एवं अंतिम वर्ष में पढ़ रहे विद्यार्थी इस जॉब फेयर में भाग ले सकते हैं। विद्यार्थी  अपने साथ पहचान पत्र, बायोडाटा, रंगीन पासपोर्ट साइज फोटोग्राफ  के साथ 20 तथा 21 और 25 एवं 26 फरवरी को विश्वविद्यालय परिसर में प्रातः 9:00 बजे  उपस्थित हो। कॉलेज अपने विद्यार्थियों को अपने प्रतिनिधि शिक्षकों के साथ विश्वविद्यालय परिसर में भेजें। 25 एवं 26 फरवरी को आयोजित हो रहे मेगा जॉब फेयर में   एनआईआईटी, इंडिया बुल्स, एक्सिस बैंक, ग्रीन सफायर क्लब, क्लब जेबी, जस्ट डायल सहित लगभग 20 बड़ी कंपनियां विद्यार्थियों के प्लेसमेंट के लिए आ रही हैं।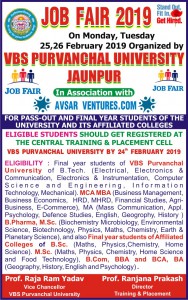 A Brief Report of Training & Placement Cell- 2018(Click Here)
Job Fair 2018– Dated 23/04/2018 List of Selected Candidates in various Companies
                                                                   केन्द्रीय प्रशिक्षण एंव प्लेसमेन्ट सेल
                                                                                      उद्देश्य
वीर बहादुर सिंह पूर्वान्चल विश्वविद्यालय, जौनपुर के कुलपति प्रो0 डाॅ0 राजाराम यादव जी ने विश्वविद्यालय परिसर के व्यवसायिक पाठ्यक्रम के विद्यार्थियों के उज्जवल भविष्य के लिये इंजीनियरिंग संस्थान में सुसज्जित केन्द्रीय ट्रेनिंग एंव प्लेसमेन्ट सेल की स्थापना 15 नवम्बर 2017 को की। इसके सफल संचालन हेतु इलाहाबाद विश्वविद्यालय की अनुभवी प्रोफेसर डाॅ0 रंजना प्रकाश को निदेशक नियुक्त किया गया। सेल द्वारा छात्रों के सर्वांगीण विकास, संचार कौशल, कम्प्यूटर कौशल, व्यक्तित्व विकास हेतु विभिन्न कार्यशालाएं आयोजित की र्गइं जिसमें उद्योग से जुड़े विभिन्न विशेषज्ञों ने तकनीकी ज्ञान दिया। विश्वविद्यालय केे इस नव निर्मित प्लेसमेंट सेल की सहायता से सत्र 2017-18 में कुल 735 विद्यार्थियों का विभिन्न कम्पनियो में चयन हुआ।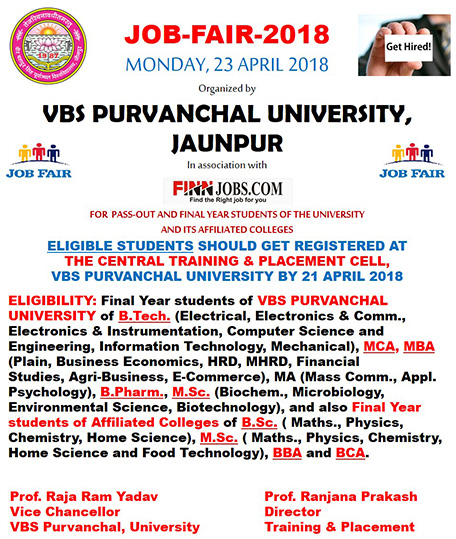 जॉब फेयर में उमड़े विद्यार्थी, विश्वविद्यालय में पहली बार लगा जॉब फेयर
24 अप्रैल को  भी चलेगा जॉब फेयर
कुलपति जी ने फीता काटकर किया शुभारंभ

जॉब फेयर में उमड़े विद्यार्थी, विश्वविद्यालय में पहली बार लगा जॉब फेयर , 24 अप्रैल को भी चलेगा जॉब फेयर
कुलपति जी ने फीता काटकर किया शुभारंभ विश्वविद्यालय में ट्रेनिंग एवं प्लेसमेंट सेल द्वारा विद्यार्थियों को रोजगार उपलब्ध कराने के लिए जॉब फेयर 2018 का आयोजन किया गया । विश्वविद्यालय में पहली बार रोजगार के लिए इस तरह का वृहद् आयोजन किया गया है। जॉब फेयर का उद्घाटन कुलपति प्रोफेसर डॉक्टर राजाराम यादव एवं नई दिल्ली से आए भारत सरकार के पूर्व उप सचिव कृष्ण दत्त समाधिया ने किया।अपने संबोधन में कुलपति प्रोफेसर डॉ राजाराम यादव ने कहा कि आज के दौर में पुरुषार्थ चतुष्ट्य में अर्थ महत्वपूर्ण हो गया है।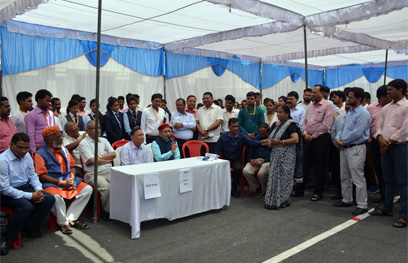 इस जॉब फेयर में जो विद्यार्थी भाग लेने आए हैं वह अपने भविष्य के प्रति सजग हैं। विश्वविद्यालय विद्यार्थियों को अच्छी शिक्षा देने के साथ-साथ बेहतर रोजगार उपलब्ध कराने के लिए ऐसे आयोजन करता रहेगा। उन्होंने कहा कि विद्यार्थी मन से अध्ययन करें ,विश्वविद्यालय उन्हें रोजगार मुहैया करने में आगे रहेगा। कुलपति ने विभिन्न कंपनियों के प्रतिनिधियों से मुलाकात कर उनसे विस्तार पूर्वक बातचीत की।प्लेसमेंट सेल की निदेशक प्रोफेसर रंजना प्रकाश ने कहा कि विश्वविद्यालय की छवि शिक्षकों के साथ-साथ उसके विद्यार्थियों से भी होती है हमारे विद्यार्थियों का भविष्य बेहतर हो इसलिए आज यह जॉब फेयर लगाया गया है। जॉब फेयर 2018 में 1125 विद्यार्थियों ने पंजीकरण कराया। परिसर के इंजीनियरिंग, प्रबंधन , जनसंचार, फार्मेसी, व्यावहारिक मनोविज्ञान आदि विषयों के अतिरिक्त 20 महाविद्यालय के विद्यार्थियों ने भी प्लेसमेंट प्रक्रिया में प्रतिभाग किया। मड़ियाहूं पीजी कालेज के विद्यार्थियों का उत्साह देखते बनता था। जॉब फेयर के पहले दिन 17 कंपनियों के प्लेसमेंट प्रक्रिया में विद्यार्थियों ने अपना कौशल दिखलाया,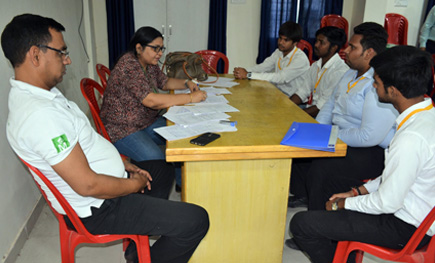 जिसमें भारत स्टार सर्विस प्राइवेट लिमिटेड, मोबिलिटी, अरनव इन्फोसॉफ्ट, ऑथेंटिक इंफोसॉफ़्ट लिमिटेड, एनसीआर कॉरपोरेशन इंजीनियरिंग, कोहिनूर एग्रो, न्यूट्री लाइफ प्राइवेट लिमिटेड, चंदन हेल्थ केयर लिमिटेड, यूरेका फोर्ब्स, यूएसजी, जीएनएन, इंडिया मार्ट, कार्वी ग्रुप, ई जेड मूव्स कंपनियां शामिल हुई।बीटेक एवं एमबीए के विद्यार्थियों के लिए 24 अप्रैल को भी कई कंपनियों द्वारा कैंपस चयन किया जाएगा। सोमवार को फॉर्मेसी, संकाय भवन, फॉर्मेसी, एम .बी.ए और विश्वसरैया हॉल में देर शाम तक इंटरव्यू चला । जॉब फेयर में कंपनियों द्वारा लिखित परीक्षा समूह परिचर्चा एवं साक्षात्कार की प्रक्रिया संपन्न कराई गई, जिसका परिणाम 24 अप्रैल को जारी किया जाएगा।विश्वविद्यालय के वित्त अधिकारी एम के सिंह और रंजनाप्रकाश ने कंपनियों के प्रतिनिधियों को स्मृति चिन्ह प्रदान कर सम्मनित किया।प्लेसमेंट सेल के श्याम त्रिपाठी एवं ऋषि सिंह ने विभिन्न गतिविधियों का समन्वय किया। इस अवसर पर कुलसचिव सुजीत कुमार जायसवाल प्रो बीवी तिवारी, प्रो अजय द्विवेदी, प्रो अशोक कुमार श्रीवास्तव, प्रो मानस पांडेय, प्रो वंदना राय, प्रो राजेश शर्मा, प्रो बी डी शर्मा, डॉ मनोज मिश्रा, डॉ संतोष कुमार, डॉ राजकुमार सोनी, संजीव गंगवार , डॉ दिग्विजय सिंह राठौर, डॉ सुनील कुमार समेत तमाम लोग मौजूद थे|
List of companies participating in the Job Fair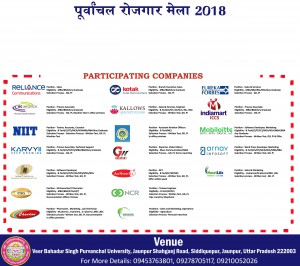 उद्देश्य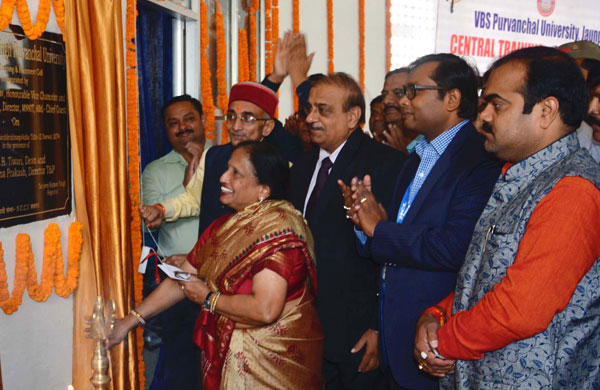 वीर बहादुर सिंह पूर्वान्चल विश्वविद्यालय, जौनपुर के कुलपति प्रो0 डाॅ0 राजाराम यादव जी ने विश्वविद्यालय परिसर के व्यवसायिक पाठ्यक्रम के विद्यार्थियों के उज्जवल भविष्य के लिये इंजीनियरिंग संस्थान में सुसज्जित केन्द्रीय ट्रेनिंग एंव प्लेसमेन्ट सेल की स्थापना 15 नवम्बर 2017 को की। इसके सफल संचालन हेतु इलाहाबाद विश्वविद्यालय की अनुभवी प्रोफेसर डाॅ0 रंजना प्रकाश को निदेशक नियुक्त किया गया। सेल द्वारा छात्रों के सर्वांगीण विकास, संचार कौशल, कम्प्यूटर कौशल, व्यक्तित्व विकास हेतु विभिन्न कार्यशालाएं आयोजित की र्गइं जिसमें उद्योग से जुड़े विभिन्न विशेषज्ञों ने तकनीकी ज्ञान दिया। विश्वविद्यालय केे इस नव निर्मित प्लेसमेंट सेल की सहायता से सत्र 2017-18 में कुल 681 विद्यार्थियों का विभिन्न कम्पनियो में चयन हुआ।

सेन्ट्रल ट्रेनिंग प्लेसमेन्ट सेल का विवरण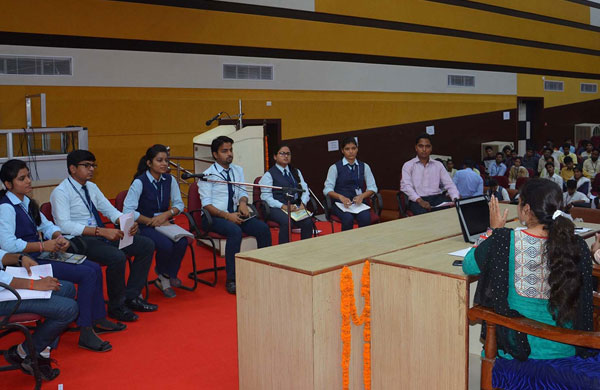 (क) 17 व 18 नवंबर 2017 को लाइमेन सोल्यूशन लखनऊ के विशेषज्ञों मोक्षदा सिंह, निवेदिता सिंह तथा अंकित सिंह ने बी.टेक, एम.सी.ए., व एम.बी.ए. के छात्रांे को संचार कौशल, व्यक्तित्व विकास, गु्रप डिस्कशन व साक्षात्कार इत्यादि पर सारगर्भित प्रशिक्षण दिया।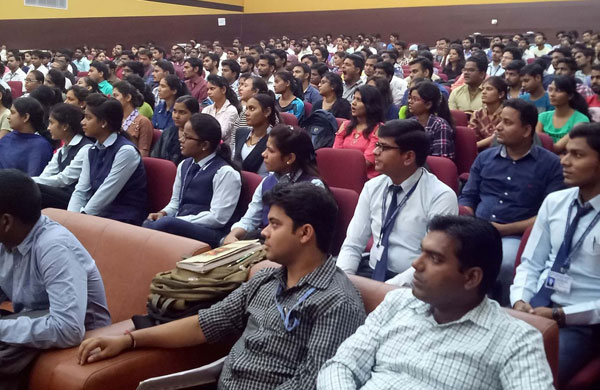 (ख) 5 से 7 जनवरी 2018 को साफकाॅन लखनऊ की 8 सदस्यीय टीम ने बी.टेक. व एम.सी.ए. के छात्रों को कम्प्यूटर का व्यवहारिक प्रशिक्षण दिया। इसमें  बी.टेक. के इलेक्ट्रानिक्स एण्ड कम्यूनिकेशन इन्जीनियरिंग, इलेक्ट्रानिक्स एण्ड इन्स्ट्रूमेन्टेशन इन्जीनियरिंग, इलेक्ट्रिकल इन्जीनियरिंग, मैकेनिकल इन्जीनियरिंग, इनफार्मेशन टेक्नालाॅजी एवं कम्प्यूटर साइन्स एण्ड इन्जीनियरिंग के छात्रों को क्रमशः सी-प्लस-प्लस, पी.एल.सी व स्काडा, मैट लैब, एनालसिस तथा ग्राफिक डेवलपमेट तथा एम.सी.ए. के छात्रों को डेटाबेस का प्रशिक्षण तीन दिनों तक दिया गया।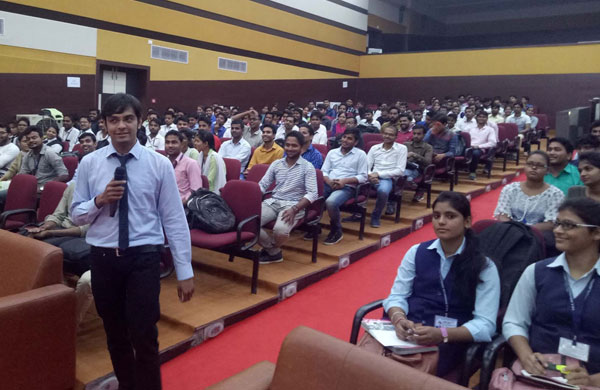 (ग) 29 व 30 जनवरी 2018 को लाइमेन सोल्यूशन्स लखनऊ के राहुल सिंह व प्रवीन सिंह तथा फार्मा कैरियर एकेडेमी लखनऊ के निदेशक एस.के.गाँधी द्वारा बी.फार्मा व एम.एससी. के छात्रों को संचार कौशल, व्यक्तित्व-विकास व साक्षात्कार इत्यादि पर प्रशिक्षण दिया गया।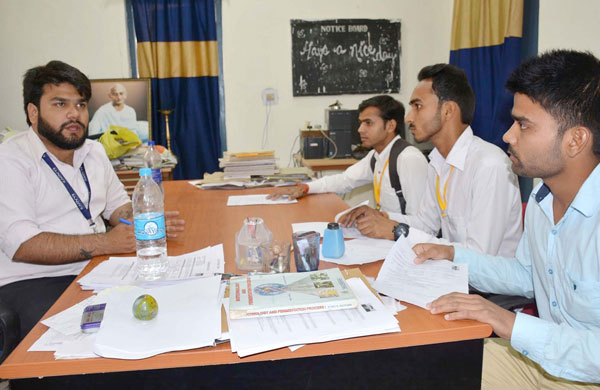 (घ) मार्च 2018 में सनी सचदेवा व कृपान शर्मा इलाहाबाद ने एम.बी.ए. के छात्रों को कैट प्रतियोगिता-परीक्षा के लिये प्रशिक्षण दिया।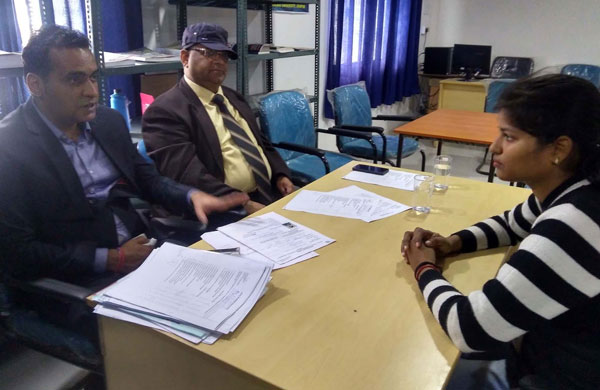 (ङ) 17 मार्च को पाई इन्फोकाॅम लखनऊ ने बी.टेक., एम.सी.ए. व एम.बी.ए. के  को साक्षात्कार कैसे दें, के लिये प्रशिक्षण दिया।
(च) विभिन्न कम्पनियों द्वारा छात्रों के चयन का विवरणः-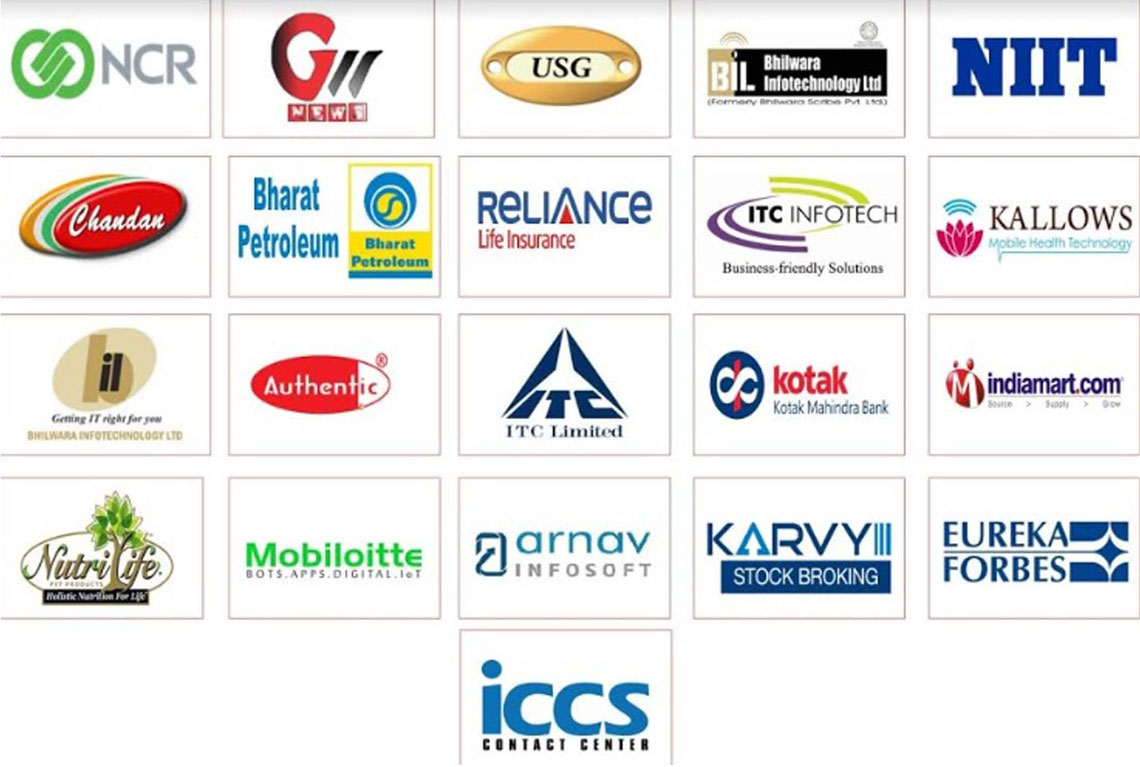 (1) 18 नवम्बर 2017 को लाइमेन सोल्यूशन द्वारा 5 चयन ;
1-वेबसाइट डिजाइनर
3- मार्केटिंग एक्जक्यूटिव
1-साफ्टवेयर डेवलपरद्ध
List of Selected Candidate in the Limen Solution Pvt.Ltd., Lucknow
| Sr No. | Name | Branch | Post |
| --- | --- | --- | --- |
| 1 | ROOP SHANKAR MISHRA | C.S.E. | EVENT MANAGER |
| 2 | RAJ SRIVASTAVA | E.C.E. | EVENT MANAGER |
| 3 | AKANKSHA SRIVASTAVA | MASS COM | ELECTRONIC PRINT MEDIA |
| 4 | SHASHWAT SRIVASTAVA | MBA(HRD) | EVENT MANAGER |
(2) 03 जनवरी 2018 को टेलेन्ट पूल चंडीगढ़ द्वारा बी.टेक. के 21 छात्रों का चयन टेलीकाम अभियन्ता के पद पर किया गया।
(3) 29 व 30 जनवरी 2018 को लाइमेन सोल्यूशन्स लखनऊ द्वारा 31 छात्रों का चयन
| | |
| --- | --- |
| बी. फार्म. | 15 |
| एम.एस.सी. माइक्रोबायलाॅजी | 07 |
| एम.एस.सी. बायोकेमिस्ट्री | 04 |
| एम.एस.सी. बायोटेक्नालाॅजी | 03 |
| इन्वायरमेन्टल साइन्स | 02 |

List of Selected Candidate in the Limen Solution Pvt.Ltd., Lucknow
| Sr. No. | Name | Branch | Post |
| --- | --- | --- | --- |
| 1 | ANKIT TIWARI | M.Sc. MICROBIOLOGY | DRUGS QUALITY CONTROL |
| 2 | ASHISH SHUKLA | M.Sc. MICROBIOLOGY | DRUGS QUALITY CONTROL |
| 3 | ANKITA SRIVASTAVA | M.Sc. MICROBIOLOGY | DRUGS TESTING &QUALITY CONTROL |
| 4 | POOJA SINGH | M.Sc. BIOCHEMISTRY | DRUGS TESTING &QUALITY CONTROL |
| 5 | SHIVAM TIWARI | ENVIRONMENTAL SCIENCE | R &T SECTION |
| 6 | ANKITA SINGH | ENVIRONMENTAL SCIENCE | R &T SECTION |
| 7 | SUMAIYA KHATOON | M.Sc. BIOTECHNOLOGY | DRUGS QUALITY CONTROL |
| 8 | ANSHU | B.PHARMA | MEDICAL REPRESENTATIVE & QUALITY CONTROL |
| 9 | RAJBIR SINGH | B.PHARMA | MEDICAL REPRESENTATIVE & QUALITY CONTROL |
| 10 | PANKAJ SINGH | B.PHARMA | MEDICAL REPRESENTATIVE & QUALITY CONTROL |
| 11 | BHARATI SAROJ | B.PHARMA | MEDICAL REPRESENTATIVE & QUALITY CONTROL |
| 12 | AKANKSHA SINGH | B.PHARMA | MEDICAL REPRESENTATIVE & QUALITY CONTROL |
| 13 | DIVYAKANT SINGH | B.PHARMA | MEDICAL REPRESENTATIVE & QUALITY CONTROL |
| 14 | RAHUL YADAV | B.PHARMA | MEDICAL REPRESENTATIVE & QUALITY CONTROL |
| 15 | SHIVANI SINGH | B.PHARMA | MEDICAL REPRESENTATIVE & QUALITY CONTROL |
| 16 | MINAKSHI SAHU | M.Sc. MICROBIOLOGY | DRUGS QUALITY CONTROL |
| 17 | SHILPAM TRIPATHI | M.Sc. BIOCHEMISTRY | DRUGS TESTING &QUALITY CONTROL |
| 18 | PRIYADARSHINI SINGH | M.Sc. BIOCHEMISTRY | DRUGS TESTING &QUALITY CONTROL |
| 19 | JAGRITI SINGH | M.Sc. BIOCHEMISTRY | DRUGS TESTING &QUALITY CONTROL |
| 20 | RITESH KR. MAURYA | M.Sc. MICROBIOLOGY | DRUGS QUALITY CONTROL |
| 21 | KAJAL SRIVASTAVA | M.Sc. MICROBIOLOGY | DRUGS QUALITY CONTROL |
| 22 | SONALI SRIVASTAVA | M.Sc. MICROBIOLOGY | DRUGS QUALITY CONTROL |
| 23 | LAL BAHADUR YADAV | M.Sc. BIOTECHNOLOGY | DRUGS QUALITY CONTROL |
| 24 | GARIMA SINGH | M.Sc. BIOTECHNOLOGY | DRUGS QUALITY CONTROL |
| 25 | MOHD. PARVINA | B.PHARMA | MEDICAL REPRESENTATIVE & QUALITY CONTROL |
| 26 | ABHISHEK MAURYA | B.PHARMA | MEDICAL REPRESENTATIVE & QUALITY CONTROL |
| 27 | RASHMI RANJAN | B.PHARMA | MEDICAL REPRESENTATIVE & QUALITY CONTROL |
| 28 | JAI HIND KR. CHAUHAN | B.PHARMA | MEDICAL REPRESENTATIVE & QUALITY CONTROL |
| 29 | RAKESH KR. MAURYA | B.PHARMA | MEDICAL REPRESENTATIVE & QUALITY CONTROL |
| 30 | VINAY KUMAR YADAV | B.PHARMA | MEDICAL REPRESENTATIVE & QUALITY CONTROL |
| 31 | SAUMYA RAI | B.PHARMA | MEDICAL REPRESENTATIVE & QUALITY CONTROL |
(4) 09 फरवरी 2018 को स्काइप-साॅफ्टवेयर द्वारा नरसी माॅजी इंस्टीट्यूट आफ मैनेजमेन्ट मुंबई में विजनेस डेवलपमेन्ट एक्जक्यूटिव पद के लिये एम.बी.ए के छात्रों का साक्षात्कार करवाया गया।
(5) 17 मार्च रविवार 2018 को पाई इन्फोकाॅम लिमिटेड लखनऊ ने 21 छात्रों का चयन किया। इसमें एम.बी.ए. के 5 छात्रों का विजनेस डेवलपमेंट मैनेजर के पद पर बी.टेक., कम्प्यूटर साइन्स व इन्फार्मेशन टेक्नालोजी तथा एम.सी.ए. के 9 छात्रों का चयन जूनियर साफ्टवेयर डेवलपर के पद पर, मैकेनिकल इंजीनियरिंग के चार विद्यार्थियो का चयन आटोकैड डिजाइनर के पद पर, इलेक्ट्रानिक्स कम्यूनिकेशन, इलेक्ट्रिकल इंजीनियरिंग एवं इलेक्ट्रानिक्स इन्स्ट्रूमेंटेशन के 3 छात्रों का चयन आटोमेशन इंजीनियर के पद पर हुआ।
| Sr. No. | Name | Branch | Post |
| --- | --- | --- | --- |
| 1 | DHEERAJ SINGH | IT | JUNIOR SOFTWARE DEVELOPER |
| 2 | SARJEEL RAHMAN KHAN | CSE | JUNIOR SOFTWARE DEVELOPER |
| 3 | ATAL TRIPATHI | CSE | JUNIOR SOFTWARE DEVELOPER |
| 4 | SHUBHANSHU GUPTA | CSE | JUNIOR SOFTWARE DEVELOPER |
| 5 | PRATEEK TIWARI | CSE | JUNIOR SOFTWARE DEVELOPER |
| 6 | SHASHAWAT VIKRAM SINGH | CSE | JUNIOR SOFTWARE DEVELOPER |
| 7 | PRANSHU SINGH YADAV | CSE | JUNIOR SOFTWARE DEVELOPER |
| 8 | SHAILENDRA KUMAR YADAV | CSE | JUNIOR SOFTWARE DEVELOPER |
| 9 | SONAM TIWARI | MCA | JUNIOR SOFTWARE DEVELOPER |
| 10 | DANISH | ME | AUTOCAD DESIGNER |
| 11 | VAIBHAV SRIVASTAVA | ME | AUTOCAD DESIGNER |
| 12 | PRASHANT YADAV | ME | AUTOCAD DESIGNER |
| 13 | ANURAG MISHRA | ME | AUTOCAD DESIGNER |
| 14 | SHRISH DUBEY | ECE | AUTO MATION ENGINEER |
| 15 | SHIV KUMAR MISHRA | EE | AUTO MATION ENGINEER |
| 16 | SHIVAM MALVIYA | EIE | AUTO MATION ENGINEER |
| 17 | VISHAL SINGH | MBA | BUSINESS DEVELOPMENT MANAGER |
| 18 | NADEEM AHMAD KHAN | MBA | BUSINESS DEVELOPMENT MANAGER |
| 19 | PRITI MISHRA | MBA | BUSINESS DEVELOPMENT MANAGER |
| 20 | PRIYA SINGH | MBA | BUSINESS DEVELOPMENT MANAGER |
| 21 | VIKAS TRIPATHI | MBA | BUSINESS DEVELOPMENT MANAGER |
(6) 28 मार्च 2018 को कंपनियों रोबो सेपियन्स, एडुब्लाक, ओलाइट इन्टरप्राइजेज, डी. साईबोर्ग इंडिया, लेकहेट्रन टेक्नालाॅजी इंडिया द्वारा एम.बी.ए. तथा बी.टेक. के 37 विद्यार्थियो का चयन हुआ। इनमें एम.बी.ए. ;एच.आर.डी. के 6, फाइनेन्स कन्ट्रोल के 01द्ध के कुल 7 तथा बी.टेक. ;मैकेनिकल के 06, इलेक्टिकल के 06, इलेक्ट्रानिक्स एण्ड कम्यूनिकेशन के 04, कम्प्यूटर साइन्स के 7, आई.टी. के 3 तथा इलेक्ट्रानिक्स एण्ड इन्स्ट्रूमेंटेशन के 04द्ध के कुल 30 विद्यार्थियों का चयन हुआ।
(7) छात्रों के चयन हेतु जाॅब फेयर का आयोजन
जाॅब फेयर का उद्घाटन करते माननीय कुलपति जी प्लेसमेन्ट सेल में महामण्डलेश्वर के आगमन पर स्वागत करते माननीय कुलपति जी
जाॅब फेयर का उद्घाटन करते माननीय कुलपति जी प्लेसमेन्ट सेल में महामण्डलेश्वर के आगमन पर स्वागत करते माननीय कुलपति जी
(8) 23 व 24 अप्रैल 2018 को पूर्वान्चल विश्वविद्यालय मे जाॅब-फेयर 2018 का आयोजनः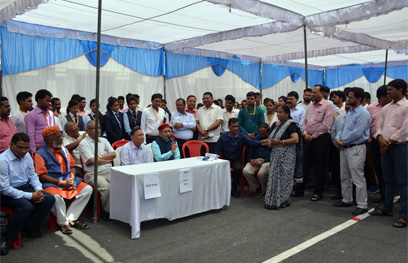 जाॅब फेयर में 1125 सेे अधिक विद्यार्थियो ने भाग लिया। कुल 28 कम्पनियों ने चयन की प्रक्रिया पूर्ण करते हुये कुल 537 छात्र/छात्राओं का चयन किया।
जाॅब फेयर के उद्घाटन सत्र को सम्बोधित करते माननीय कुलपति जी।
जाॅब फेयर में प्रतिभाग करने वाली कम्पनियों के नाम निम्नवत् हैं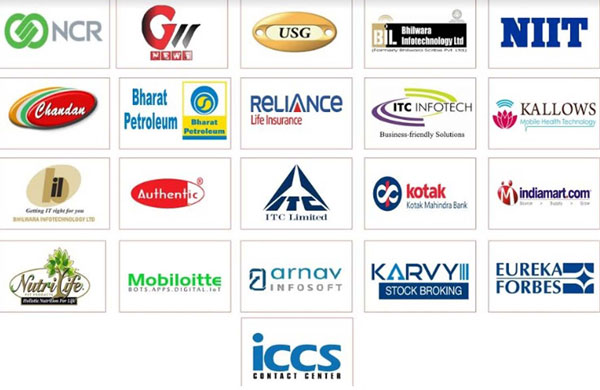 भारत पेट्रोलियमए मोबिलाइटए अर्नव इन्फोसाफ्ट, एन.आई.आई.टी., अथेन्टिक इन्स्ट्रूमेन्ट्स लिमिटेड, एन.सी.आर कार्पोरेसन्स, कैलोज इंजीनियरिंग, ग्लोबल न्यूज नेटवर्क, कोहिनूर एग्रो, न्यूट्रीलाइट इंडिया प्राइवेट लिमिटेड, चंदन हेल्थकेयर लिमिटेड, यूरेका फोर्बस,, आई.टी.सी इन्फोटेक, यू.एस.जी, रिलाएन्स कार्पोरेशन्स, कोटेक महिन्द्रा, बैंक इंडिया मार्ट (आई.सी.सी.एस), कार्वी ग्रूप, ई.जेड मूव तथा भीलवाड़ा इन्फोटेक इत्यादि।
Selected Students for Customer Support Executive Indiamart (ICCS)
Sr. No.
Name
Branch
Post
1
Nandani Patel
B.Tech CS
Customer Support Executive
2
Amit Kumar
B.tech ECE
Customer Support Executive
3
Divesh Kumar Singh
MBA (Merketing)
Customer Support Executive
4
Manoj Kr. Yadav
MBA(Pursuing)
Customer Support Executive
5
Vipin Kr. Yadav
B.tech ECE
Customer Support Executive
6
Manik Raj
MBA (Agri. Business)
Customer Support Executive
7
Raghavendra singh
MBA (Marketing)
Customer Support Executive
8
Sandeep Maurya
B.Tech
Customer Support Executive
9
Shivam Mishra
B.Tech (EE)
Customer Support Executive
10
Mohd. Shariq Iqbal
B.Tech (EE)
Customer Support Executive
11
Rakesh Kr. Jaiswal
MBA (Agri. Business)
Customer Support Executive
12
Alok Bharti
MBA (Agri. Business)
Customer Support Executive
13
Ambuj Kumar
MBA (Agri. Business)
Customer Support Executive
14
Pratyaksh Tyagi
MBA
Customer Support Executive
15
Nahid Fatima
B.Sc
Customer Support Executive
16
Purnima Gupta
B.Sc
Customer Support Executive
17
Swati Srivastava
B.Sc
Customer Support Executive
18
Atul Kr. Singh
MBA
Customer Support Executive
19
Vishal Yadav
MBA
Customer Support Executive
20
Ashutosh Singh
MBA
Customer Support Executive
21
Priya Singh
MBA
Customer Support Executive
22
Riya Gupta
B.Tech (CS)
Customer Support Executive
23
Pragati Ray
B.Tech (CS)
Customer Support Executive
24
Vinamrata Yadav
B.Tech (CS)
Customer Support Executive
25
Rajesh Kr. Yadav
B.Tech (ECE)
Customer Support Executive
26
Om Singh
B.Tech (ECE)
Customer Support Executive
27
Shiv Prakash
B.Tech (CS)
Customer Support Executive
28
Vijay Kr. Saroj
B.Tech (CS)
Customer Support Executive
29
Prem Chand Kannaujia
Science
Customer Support Executive
30
Virend Kr.
MBA(F&c)
Customer Support Executive
31
Devendra Kr.
MBA
Customer Support Executive
32
Vyomkesh Maurya
MBA(F&C)
Customer Support Executive
33
Vipin Shukla
B.Com
Customer Support Executive
34
Mohit Singh Bhatia
MBA
Customer Support Executive
35
Ashutosh Kr. Singh
MBA
Customer Support Executive
36
Abdul Majid
M.Sc
Customer Support Executive
37
Diwakar
MBA
Customer Support Executive
38
Divyam Jaiswal
M.Com
Customer Support Executive
39
Shubham Mishra
MBA (F&C)
Customer Support Executive
40
Ahmad Kasim
B.Com
Customer Support Executive
41
Alok Tripathi
MBA
Customer Support Executive
42
Abhishek Kr.Maurya
B.SC
Customer Support Executive
43
Hemant Kr. Vishwakarma
MBA (Business Economics)
Customer Support Executive
44
Shalini Singh
B.com
Customer Support Executive
45
Alok Madheshiya
MBA
Customer Support Executive
46
Suresh Chandra
Mass Comm
Customer Support Executive
47
Yogesh Kr. Pal
MBA (BE)
Customer Support Executive
48
Prakhar Singh
B.Tech (IT)
Customer Support Executive
49
Faraz Ahmad
MBA (F&C)
Customer Support Executive
50
Shivshankar Prajapati
MBA (F&C)
Customer Support Executive
51
Vishal Sharma
MBA (F&C)
Customer Support Executive
52
Relumal Chauhan
MA(Applied Psychology)
Customer Support Executive
53
Khushboo Yadav
B.Sc
Customer Support Executive
54
Simpy Yadav
B.Sc
Customer Support Executive
55
Anita Nath
MBA (F&C)
Customer Support Executive
56
Jaismin Bano
MBA (F&C)
Customer Support Executive
57
Pawan Singh
MBA (F&C)
Customer Support Executive
58
Pushkar Prabhat Chaturvedi
M.SC(Bio-Tech)
Customer Support Executive
59
Rahul Kumar
M.Sc
Customer Support Executive
60
Kuldeep Kr. Yadav
M.Sc (Bio-Tech)
Customer Support Executive
61
Yogita Mishra
MBA(F&c)
Customer Support Executive
62
Mithlesh Kr. Soni
MBA(F&c)
Customer Support Executive
63
Mahendra Nagar
BA
Customer Support Executive
64
Abhishek Kr. Yadav
MBA(Pursuing)
Customer Support Executive
65
Vinod Kr. Yadav
MBA(E-Comm)
Customer Support Executive
66
Shashikant
MBA(F&c)
Customer Support Executive
67
Paras Nath
MBA(F&c)
Customer Support Executive
68
Shivam Singh
MBA(F&c)
Customer Support Executive
69
Rupali Agrahari
MBA(F&c)
Customer Support Executive
70
Aman Singh
MBA(F&c)
Customer Support Executive
71
Abhishek Chaturvedi
MBA
Customer Support Executive
72
Manish Agrahari
MBA (F&C)
Customer Support Executive
73
Kajal Singh
B.COm
Customer Support Executive
74
Chandni Singh
B.COm
Customer Support Executive
75
Pooja Saini
M.com(Purusing)
Customer Support Executive
76
Shubhanshu Gupta
B.Tech (CS)
Customer Support Executive
77
Akash Gupta
MCA
Customer Support Executive
78
Shashwat Vikram Singh
B.Tech (CS)
Customer Support Executive
79
Divya Sethi
MBA
Customer Support Executive
80
Hijaf Fatima
MBA (Pass-Out)
Customer Support Executive
81
Shruti Shrivastava
MBA (F&C)
Customer Support Executive
82
Shahbaz
MBA (F&C)
Customer Support Executive
83
Vinay Kumar Singh
MBA (Purusing)
Customer Support Executive
84
Dileep Kant Sonkar
MBA
Customer Support Executive
85
Nadeem Ahmad Khan
MBA(F&C)
Customer Support Executive
86
Prince Singh
MBA
Customer Support Executive
87
Dilip Kr.
MBA
Customer Support Executive
88
Poonam Singh
B.Tech
Customer Support Executive
89
Siddharth Kr.
B.Tech(CS)
Customer Support Executive
90
Aniket Tyagi
B.Tech
Customer Support Executive
91
Nitesh Kushwaha
B.Tech
Customer Support Executive
92
Abhishek Singh
MBA
Customer Support Executive
93
Nilesh Gupta
MBA
Customer Support Executive
94
Brijesh Kumar
B.Tech (EI)
Customer Support Executive
95
Anit Kumar
MCA
Customer Support Executive
96
Abhishek Upadhyay
MCA
Customer Support Executive
97
Ankita Srivastava
MBA(F&C)
Customer Support Executive
98
Vipul Kushwaha
MCA
Customer Support Executive
99
Aadesh Mishra
MBA
Customer Support Executive
100
Sushil Chandra Yadav
MBA
Customer Support Executive
101
Vishal Singh
MBA
Customer Support Executive
102
Mohd. Athar
MBA(F&C)
Customer Support Executive
103
Anurag Upadhyay
MBA(F&C)
Customer Support Executive
104
Rajat Srivastava
MBA
Customer Support Executive
105
Shivani Gaud
B.Tech (ECE)
Customer Support Executive
106
Vibha Kannaujiya
B.Tech (ECE)
Customer Support Executive
107
Saurach Kr. Dixit
B.Tech
Customer Support Executive
108
Meraj Ahmad
B.Tech (CS)
Customer Support Executive
109
Sujit Kr. Bharti
B.Tech (EE)
Customer Support Executive
110
Keshav Mishra
B.Tech (EE)
Customer Support Executive
111
Ankitesh
B.Tech (EE)
Customer Support Executive
112
Pawan Shukla
B.Tech (EI)
Customer Support Executive
113
Saddam Ali
B.Tech (EE)
Customer Support Executive
114
Rajesh Verma
B.Tech (EE)
Customer Support Executive
115
Gaurav Singh
B.Tech (EE)
Customer Support Executive
116
Nihal Ahmad
B.Tech (EE)
Customer Support Executive
117
Rishabh Gupta
B.Tech (EI)
Customer Support Executive
118
Ashish Maurya
MBA (F&C)
Customer Support Executive
119
Ashish Srivastava
MBA (F&C)
Customer Support Executive
120
Manjeet Kr.
B.Tech(CS)
Customer Support Executive
121
Devanand
B.Tech
Customer Support Executive
122
Priya Paswan
B.Tech(ME)
Customer Support Executive
123
Priyanka Singh
B.Tech
Customer Support Executive
124
Sanchita Mittal
B.Tech
Customer Support Executive
125
Shipra Yadav
B.Tech
Customer Support Executive
126
Vishwanath Singh
B.Tech(CS)
Customer Support Executive
127
Manish Sagar
B.Tech(CS)
Customer Support Executive
128
Pranshu Singh Yadav
B.Tech(ECE)
Customer Support Executive
129
Avaneesh Singh
B.Tech
Customer Support Executive
130
Jyoti Yadav
B.Tech(CS)
Customer Support Executive
131
Yamini Singh
B.Tech
Customer Support Executive
132
Shweta Prajapati
B.Tech
Customer Support Executive
133
Mansi Sahu
B.Tech(CS)
Customer Support Executive
134
Vinit Singh
B.Tech (EE)
Customer Support Executive
135
Shri Ram Malviya
B.Tech
Customer Support Executive
136
Swadeep Kr. Singh
B.Tech (EE)
Customer Support Executive
137
Harshal Jaiswal
B.Tech
Customer Support Executive
138
Rajat Kumar
B.Tech (EE)
Customer Support Executive
List of Selected Students in Bhilwara Infosystem
Sr. No.
Name
Branch
1
Rupshankar Mishra
C.S.E
2
Ayushee Srivastava
E.E
3
Prateek Tiwari
C.S.E
4
Sharzeel Rehman Khan
C.S.E
5
Ankitesh
E.E
List of Selected Students in Authentic Instrument Industries Ltd
Sr. No.
Name
Post
1
Jyoti Maitra
Graduate Engineer Trainee
2
Rishabh Gupta
Graduate Engineer Trainee
3
Aadrash Srivastva
Graduate Engineer Trainee
4
Pawan Shukla
Graduate Engineer Trainee
5
Ajay Shankar Prajapati
Graduate Engineer Trainee
6
Shriyam Malviya
Graduate Engineer Trainee
MECHANICAL ENGINEERING
8
Shibhash Shukla
Graduate Engineer Trainee
9
Anurag Mishra
Graduate Engineer Trainee
10
Sheebi Bano
Graduate Engineer Trainee
11
Saumya Gupta
Graduate Engineer Trainee
12
Saifullah Siddiqui
Graduate Engineer Trainee
13
Dharmendra Kr. Saroj
Graduate Engineer Trainee
14
Danish
Graduate Engineer Trainee
15
Angad Chauhan
Graduate Engineer Trainee
16
Shivam Singh
Graduate Engineer Trainee
ELECTRINICS & COMMUNICATION ENGINEERING
18
Raj Srivastava
Graduate Engineer Trainee
19
Shivam Kr. Singh
Graduate Engineer Trainee
20
Avaneesh Singh
Graduate Engineer Trainee
21
Ramakant Pandey
Graduate Engineer Trainee
ELECTRICAL ENGINEERING
23
Mohammad Shariq Iqbal
Graduate Engineer Trainee
24
Satyakesh Yadav
Graduate Engineer Trainee
25
Shivam Mishra
Graduate Engineer Trainee
26
Atul Kumar
Graduate Engineer Trainee
27
Rajesh Verma
Graduate Engineer Trainee
28
Rajat Kumar
Graduate Engineer Trainee
29
Pooja Pathak
Graduate Engineer Trainee
30
Ruchi Singh
Graduate Engineer Trainee
31
Pyush Kumar Yadav
Graduate Engineer Trainee
List of Selected Students in GNN News
Sr. No.
Name
Post
1
Shruti Shrivasta
 Reporter
2
Nitish kumar
 Reporter
3
Priyanshi shukla
 Reporter
4
Shivangi Mishra
 Reporter
5
Poonam Singh
 Reporter
6
Vishawjeet singh
 Reporter
7
Amit kumar yadav
 Reporter
8
Pravin kumar
 Reporter
9
Mohd nadeem
 Reporter
10
Krishnakumar yadav
 Reporter
11
neeraj singh
 Reporter
12
yogesh kumar
 Reporter
13
vishal singh
 Reporter
14
Hemant kumar
 Reporter
15
Aakanksha srivastava
 Reporter
16
Shalu sharma
 Reporter
17
Samreen fatima
 Reporter
18
Alok kumar
 Reporter
19
Shivshankar prajapati
 Reporter
20
Aadesh mishra
 Reporter
21
Shushil chandra
 Reporter
22
mohd Ali
 Reporter
23
Divya seth
 Reporter
24
vishal singh
 Reporter
25
Devendra kumar
 Reporter
26
suraj kumar
 Reporter
27
Ankit sarin
 Reporter
28
Shivani gaud
 Reporter
29
vikas tripathi
 Reporter
30
Nilesh gupta
 Reporter
31
Ashish srivastva
 Reporter
32
Shilpa yadav
 Reporter
33
Hijab fatma
 Reporter
34
Shahbaaz
 Reporter
35
Manish Agrihari
 Reporter
36
pawan singh
 Reporter
List of Shortlisted Students in Kallows Engineering
Sr. No.
Name
Branch
Post
1
Swadeep k Singh
Electrical
Service Engineer
2
Satyakesh yadav
Electrical
Service Engineer
3
Mohd Saleem
M.Sc.
Service Engineer
4
Shweta Chaudhari
Electrical
Service Engineer
5
Abhishek Chaturvedi
M.Sc., B.Sc IT
Service Engineer
6
Dilshad Ahmad
Electronics
Service Engineer
7
Ruchi Singh
Electrical
Service Engineer
8
vibha Kannaujia
Electronics
Service Engineer
9
Shiv Prakash
C.S.E.
Service Engineer
10
Pooja Pathak
Electrical
Service Engineer
11
Sudheer Kumar
C.S.E.
Service Engineer
12
Ved Prakash Yadav
Electrical
Service Engineer
13
Abdul Majid
Msc
Service Engineer
14
Rohit Yadav
C.S.E.
Service Engineer
15
Mansi Sahu
C.S.E.
Service Engineer
16
Dheeraj Singh
C.S.E.
Service Engineer
17
Vishal Singh
C.S.E.
Service Engineer
18
Riya Gupta
C.S.E.
Service Engineer
19
Shweta Prajapati
C.S.E.
Service Engineer
20
Vaibhav Anand
IT
Service Engineer
21
Atal Tripathi
C.S.E.
Service Engineer
22
Vineet singh
Electrical
Service Engineer
23
Akash Srivastava
Electronics
Service Engineer
24
Raj Srivastava
Electronics
Service Engineer
25
SatyaPrakash
Electrical
Service Engineer
26
Harshal Jaiswal
Electrical
Service Engineer
27
Kamlesh kumar Gupta
IT
Service Engineer
28
Vinamrata yadav
C.S.E.
Service Engineer
29
Subhanshu Gupta
C.S.E.
Service Engineer
30
Sharzeel Rahman Khan
C.S.E.
Service Engineer
31
Amit Kumar
Electronics
Service Engineer
32
Amit kumar singh
electrical
Service Engineer
33
Ankita Maurya
Electrical
Service Engineer
34
Gaurav Singh
Electrical
Service Engineer
35
Saurabh Dixit
Electrical
Service Engineer
36
Ayushee Srivastava
Electrical
Service Engineer
37
Ayushee Sahu
Electrical
Service Engineer
38
Manjeet kumar
C.S.E.
Service Engineer
39
Sujit Kumar
Electrical
Service Engineer
40
Ankitesh
Electrical
Service Engineer
41
Bhagat Singh
Electrical
Service Engineer
42
Piyush kumar Yadav
Electrical
Service Engineer
43
Vishwajeet Singh
Electronics
Service Engineer
44
Pravin Kumar
Electronics
Service Engineer
45
Ashish Srivastava
MBA (Marketing)
Business Development
46
Manisha Singh
C.S.E.
Service Engineer
47
Aniket Tyagi
C.S.E.
Service Engineer
48
Atul Kumar
MBA
Business Development
49
Ajay Shankar Rajak
EIE
Service Engineer
50
Priyanshi Shukla
ECE
Service Engineer
51
Ajay Vishwakarma
Science (Biotech)
Service Engineer
52
Sanchita Mittal
ECE
Service Engineer
53
Vikas Kumar Yadav
ECE
Service Engineer
54
Vikas Tripathi
MBA (Marketing)
Business Development
55
Suchit Kr. Vishwakarma
IT
Service Engineer
56
Ashutosh singh
MBA
Business Development
57
Abhishek Shingh
MBA
Business Development
58
Shivani Gaudh
ECE
Service Engineer
59
Atul kumar Singh
MBA (Marketing)
Business Development
List of Selected Students in Nutrilife India Pvt. Ltd.
Sr. No.
Name
Post
1
Mr.Chanchal  Chauhan
 Medical Representative
2
Mr. Jayhind Maurya
Medical Representative
3
Mr. Ambrish Patel
Medical Representative
4
Mrs .Ummayahani
Medical Representative
5
Mr.Lakshmi Narayan
Medical Representative
6
Mr. Ram Saran
Medical Representative
7
Mrs. Anshu
Medical Representative
8
Mr. vinay kumar  yadav
Medical Representative
9
Mrs. Neha
Medical Representative
List of Selected Students in Chandan Healthcare
Sr. No.
Name
Branch
Post
1
Mohit Singh Bhatia
MBA
 Business Developer
2
Ashutosh Kumar Singh
MBA
 Business Developer
3
Vishal Sharma
MBA
 Business Developer
4
Nadeem Ahmad Khan
MBA
 Business Developer
5
Mohd Nadeem
MBA
 Business Developer
6
Devendra Kumar
MBA
 Business Developer
7
Rayees Anwar
MBA
 Business Developer
8
Shashank Jain
MBA
 Business Developer
9
Vishal
B.Pharma
 Lab Technician
10
Pankaj Patel
B.Pharma
Lab Technician
11
Siddh Nath Vishwakarma
B.Pharma
Lab Technician
12
Mahesh Kumar
B.Pharma
Lab Technician
13
Jayhind Kumar Chahuhan
B.Pharma
Lab Technician
14
Om Prakash Yadav
B.Pharma
Lab Technician
15
Narendra Bind
B.Pharma
Lab Technician
16
Vinay Kumar Yadav
B.Pharma
Lab Technician
17
Shani Gupta
M.Sc
Lab Technician
18
Gaurav Kumar Balmiki
M.Sc
Lab Technician
19
Piyush Kumar Maurya
M.Sc
Lab Technician
20
Vishal Soni
M.Sc
Lab Technician
List of Shortlisted Students in Bharat Star Services
Sr. No.
Name
Branch
Post
1
Angad Chauhan
B.Tech Mech
Assistant Aviation Officers
2
Saifullah Siddique
B.Tech Mech
Assistant Aviation Officers
3
Awanish Kumar Pandey
B.Tech Mech
Assistant Aviation Officers
4
Jitendra Joshi
B.Tech Mech
Assistant Aviation Officers
5
Prashant Yadav
B.Tech Mech
Assistant Aviation Officers
6
Mithilesh Kumar
B.Tech Mech
Assistant Aviation Officers
7
Dharmendra Kumar Saroj
B.Tech Mech
Assistant Aviation Officers
8
Hemant Singh
B.Tech Mech
Assistant Aviation Officers
9
Ratnesh Kumar
B.Tech Mech
Assistant Aviation Officers
10
Sunil Kumar
B.Tech Mech
Assistant Aviation Officers
11
Jaiveer Yadav
B.Tech Mech
Assistant Aviation Officers
12
Shubhash Shukla
B.Tech Mech
Assistant Aviation Officers
13
Rahul Gupta
B.Tech Mech
Assistant Aviation Officers
14
Ajay Yadav
B.Tech Mech
Assistant Aviation Officers
15
Danish
B.Tech Mech
Assistant Aviation Officers
16
Anurag Mishra
B.Tech Mech
Assistant Aviation Officers
17
Shivam Singh
B.Tech Mech
Assistant Aviation Officers
18
Rishiraj Prajapati
B.Tech Mech
Assistant Aviation Officers
List of Shortlisted Students in NCR Corporation
Sr. No.
Name
Branch
Post
1
Pankaj Kumar Bharti
EI
Graduate Trainee Engineer
2
Sandeep Maurya
EIE
Graduate Trainee Engineer
3
Rajesh Kr. Yadav
ECE
Graduate Trainee Engineer
4
Ranvijay Bhardwaj
ECE
Graduate Trainee Engineer
5
Mohd. Fareem
ECE
Graduate Trainee Engineer
6
Sudhir Kr. Rajput
EE
Graduate Trainee Engineer
7
Ajay Shekhar Shankar Rajak
Graduate Trainee Engineer
8
Shweta Chaudhary
EE
Graduate Trainee Engineer
9
Deepak Kr. Maurya
EE
Graduate Trainee Engineer
10
Anil Yadav
Graduate Trainee Engineer
11
Vishvajeet Singh
ECE
Graduate Trainee Engineer
12
Amit Yadav
ECE
Graduate Trainee Engineer
13
Ankit Kumar Saren
ECE
Graduate Trainee Engineer
14
Amit Kumar Singh
EE
Graduate Trainee Engineer
15
Vikas Kumar Singh
EE
Graduate Trainee Engineer
16
Rajat Jaiswal
EIE
Graduate Trainee Engineer
17
Ramadhir Maurya
ECE
Graduate Trainee Engineer
18
Shivangi Mishra
ECE
Graduate Trainee Engineer
19
Dhananjay Kumar Prajapati
ECE
Graduate Trainee Engineer
20
Pawan Shukla
EIE
Graduate Trainee Engineer
21
Aakash Kumar
ECE
Graduate Trainee Engineer
22
Ruchi Singh
EE
Graduate Trainee Engineer
23
Poojha Pathak
EE
Graduate Trainee Engineer
24
Manish Jaiswal
EIE
Graduate Trainee Engineer
25
Vinay Kumar Prajapati
EE
Graduate Trainee Engineer
26
Rajeev Patel
ECE
Graduate Trainee Engineer
27
Parul Uppadhyay
EIE
Graduate Trainee Engineer
28
Rohit Yadav
ECE
Graduate Trainee Engineer
29
Saurabh Kumar Dixit
ECE
Graduate Trainee Engineer
30
Shivankar Lal Gautam
ECE
Graduate Trainee Engineer
31
Shaquib Faraz
EIE
Graduate Trainee Engineer
32
Vikash Kumar Yadav
ECE
Graduate Trainee Engineer
33
Ankit Gautam
ECE
Graduate Trainee Engineer
34
Nitish Kumar Singh
ECE
Graduate Trainee Engineer
35
Deepak Kumar
EE
Graduate Trainee Engineer
36
Divya Omar
EIE
Graduate Trainee Engineer
37
Poonam Singh
ECE
Graduate Trainee Engineer
38
Sanjay Pal
EE
Graduate Trainee Engineer
39
Hashit Srivastava
EIE
Graduate Trainee Engineer
40
Sanchita Mittal
ECE
Graduate Trainee Engineer
41
Vishal Sharma
MBA (F&C)
Graduate Trainee Engineer
List of Shortlisted Students in ITC Infotech
Sr. No.
Name
Post
1
Md. Nadeem
Office Executive
2
Kritika Singh
Office Executive
3
Md. Shariq IQbal
Office Executive
4
Md. Mohsin
Office Executive
5
Mohit
Office Executive
6
Nadeem Ahamad khan
Office Executive
7
Surbhi Jaiswal
Office Executive
8
Sakshi Mishra
Office Executive
9
Preeti Mishra
Office Executive
List of Shortlisted Students in USG Software
Sr. No.
Name
Post
1
Divya Sethi
HR Recruitment
2
Nisha Sahu
HR Recruitment
3
Aradhana Srivastava
HR Recruitment
4
Hizab Fatima
HR Recruitment
5
Shashwat Srivastava
HR Recruitment
6
Priti Mishra
HR Recruitment
7
Shashank Jain
HR Recruitment
8
Priya Singh
HR Recruitment