Our Vice Chancellor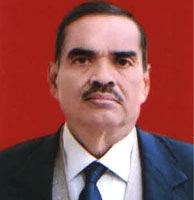 Prof. Peeush Ranjan Agrawal
The Vice-Chancellor Prof. Peeush Ranjan Agrawal, M.Com, LL.B., D. Phil., University of Allahabad has a teaching and research experience of 33 ½ years. He has been Head of School of Management Studies and Department of Humanities and Social Sciences, Motilal Nehru National Institute of Technology, Allahabad. He was Professor, Head & Dean, Faculty of Management Studies at Dr. H. S. Gour University, Sagar (MP) before serving the Allahabad University.
He published 45 articles & research papers and 06 books as author / co-author on various contemporary issues on Accounting, Finance, Economics and Management in which few issues covered are: FII Inflow in India, SE Asian Financial Crisis, External Commercial Borrowings & National Debt Management, FDIs and Rural Marketing. Food security.
A book entitled "A Comprehensive Approach to Mutual Fund" was released and commented upon by the Ex-Prime Minister Dr Manmohan Singh.
He Supervised 09 Ph.D. thesis on the subjects: IPOs, Venture Capital, Household Portfolio Management, Foreign Equity Market, Foreign Banking and Institutional Retailing, Foreign Institutional Investment, External Commercial Borrowings and Concluded a Major Research Project of UGC on International Equity Market.
Prof. Agrawal had been the Visiting Associate to UTI Institute of Capital Market, Navi Mumbai; Visiting Professor to Luigi Bocconi University , Milan , Italy; School Of Management, Asian Institute of Technology , Thailand under HRD' s Indian Faculty -Secondment Exchange Programme .
He also visited USA, Canada, UK, France, Italy and Japan to participate in International Events,Conferences and MDPs. He Surveyed and interacted with a number of MNCs in UK, France and Thailand.
He chaired and presented a Research paper in 4th Global Conference on Business and Economics, Oxford University, U.K. Chaired, a Technical Session and Member of the Organizing Committee of the 12th Asian Pacific Management Conference, Bangkok, 2006. The Economist ofUSA acclaimed one research paper titled '4 Ps Interlocutory Model of FDI' as Excellent one.he Developed Food Security Grid Model, published by FCI Institute, Gurgaon.
Prof. Agrawal was awarded Two times awarded by the President of India, and by the Prime Minister of India for contribution made in the field of Social/ Community works. He has been the Recipients of 'Career Award' of University Grants Commission, 'The Best Teacher Award' by Allahabad Chapter of AIMA and 'Gold medal' by All India Congress of farmers and Agricultural Scientists.
Attachments: